It's true, breakfast is the most important meal – and also my favourite meal – of the day. I find that having a big, healthy breakfast, sets me up to enjoy my day and eat less crap! I don't snack as often because I'm comfortably full from the morning and from being full, I don't crave sugary snacks that tear my diet to shreds. Not everyone has time to make a big, nutrient-filled breakfast in the week (me included), so here are some weekend, healthy breakfast ideas, instead.
Note: The ideas below are to be eaten in one sitting. Thus meaning your breakfast will consist of a variety of smaller breakfast options rather than one massive portion of cereal or a full fry up.
#1 A Bowl of Fruit – 2 Fruits
I've often heard people say "fruit doesn't fill me up" but as much as it is "not filling", it's low calorie and when you go about eating it the right way, can help make you feel full. I often have one, main fruit that I eat, that often being 1/2 a melon and then a smaller fruit to go with. In this case, 2 kiwis cut up into chunks, though a handful of strawberries, blueberries, grapes or satsuma is just as good. By chopping it all up and putting it in a bowl it can seem as though it takes a while to eat and hence convinces you that you're eating a lot even though calorie-wise, you're not.
Another of my favourite fruits at the moment is red grapefruit – I love the stuff!
#2 A Bowl of Porridge – 30g Serving
I love having a warm breakfast to compliment my fruit and a porridge is my favourite. At work, I tend to buy the sachets of Quaker Oats in Apple and Blueberry as they are quick and fuss-free. However, they contain quite a lot of sugar and with having fruit as well, it's best to avoid having additional sources high in sugar. If you have a hand blender, I suggest you buy normal porridge oats and blitz them to a finer texture depending on how you like them. This can make them more appealing to eat and make them a more "porridge" consistency.
I have my porridge with a few blueberries – literally like 5 or 6 – and 150ml non-dairy milk. My favourite is plain soya milk, though oat milk or coconut milk is just as nice.
#3 A Cup of Herbal Tea
I love a warm cup of tea in the morning and find that by having a herbal tea, I get to load up on lots of nutrients found in the tea as well as having a soothing hot drink to start the day. Even when I'm on holiday in 30+ degrees heat, I love having a warm cup of tea to start the day. Plus, having a metabolism boosting tea like green tea can set you up for a day of calorie burning which can only help your body look great when lounging in swimwear all day.
I sometimes add sliced lemon and a sprinkle of turmeric powder to my tea to get even more nutrients into my body.
#4 Chocolate Milk (as a treat)
Having a chocolate milkshake isn't something I'd have every day but for the odd occasion, it's amazing. I find that by drinking lots of different things in the morning, it helps me to stay full without consuming a tonne of calories.
You could make this slightly better by drinking plain water which would have even fewer calories, yet if you're not interested in calorie counting, go for the chocolate milk all day every day. (Not legit.)
#5 Eggs
An alternative to this is to have something like 2 boiled eggs or scrambled eggs seasoned with pepper and chilli flakes.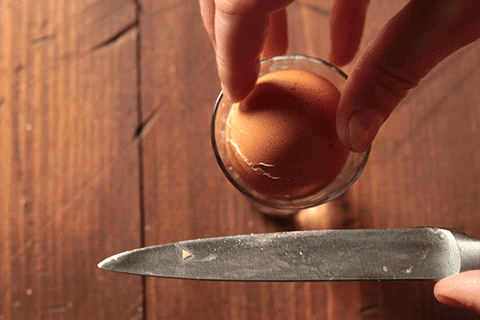 Good To Know: I never season with salt. I always try and use herbs and spices instead because salt isn't great for the body anyway and can cause a build up in cellulite. Obviously, there isn't an issue with having cellulite (and most people do), though I don't want to increase the appearance of it if I can help it.
XOXO